A wide variety of white watches for women are available these days. They have become not only an accessory but also a necessity that is blended with fashion by women of all ages. Become a style statement, for women all over the world, including celebrities and fashion designers. White watches for women can be found in a range of styles including luxury, dressy, sport, casual, classic, premium, fashion or designer watches. And they come in different sizes, shapes and material. Below are reviews of five different white watches for women. We hope you get a watch that suits your tastes.
White Watches for Women:

Our top 5 white watches for women and individual ratings are
| Pos. | Name | Price | Rating |
| --- | --- | --- | --- |
| 1. | Casio Women's LRW200H-7BVCF Watch | $$ | 5/5 |
| 2. | Armitron Sport Women's 45/7021WHT Watch | $$ | 5/5 |
| 3. | Michael Kors MK5145 Women's Watch | $$$ | 4.5/5 |
| 4. | Invicta Women's 0488 Angel Watch | $$ | 4/5 |
| 5. | Anne Klein Women's 109168WTWT Watch | $$ | 4/5 |
Casio Women's LRW200H-7BVCF Watch Review
Pros:
1. Affordable price.
2. Simple and pleasant looking.
3. Easy to be blended with most outfits.
4. High quality and durable.
5. It is water resistant.
Cons:
1. The band color will sightly change over time.
2. The date is difficult to read in its small window.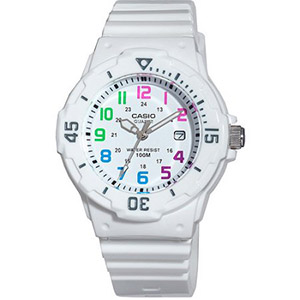 Casio Women's LRW200H-7BVCF is an affordable watch for most people. It has a high accuracy and can only deviate with 20 seconds per month. This watch is all white in color. It has a bidirectional plastic bezel and round dial which is fitted with a colored tone. There are two indices, the 12- hour and a smaller 24-hour, this is a good option for people to use for reading. It has a date window just at 3 o'clock, but it is too small in our option. Its display is analog, with a Japanese quartz movement. In order to enhance protection, it has a resin casing of 33 mm diameter and 12 mm thickness.
Casio Women's LRW200H-7BVCF has a white molded resin strap with a buckle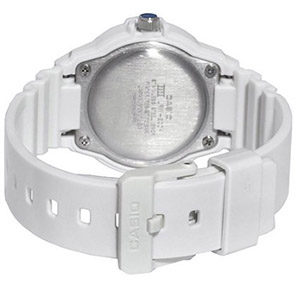 closure. The strap has a width of 14 mm and a standard length for women, with many slots to fit small wrists. This band is durable and easily adjustable, it has been modified to be less super porous, to reduce effect on the skin. One thing we should point out is you will see the slight color change that happens over time. This watch is water resistant up to a depth of 100 meters, so you can wear it for snorkelling and swimming. But it cannot be used for scuba diving cause it is only resistant up to a depth of 330 ft. There is no doubt Casio Women's LRW200H-7BVCF is a high quality and affordable white watch for women.
Armitron Sport Women's 45/7021WHT Watch Review
Pros:
1. Amazing affordability.
2. Easy to read time.
3. Have alarm and stopwatch.
4. Water resistant and highly durable.
5. Its backlight works apparently well, even in very murky waters at a depth of 40 feet.
Cons:
1. Hard to set-up.
2. The watch is too small for some people.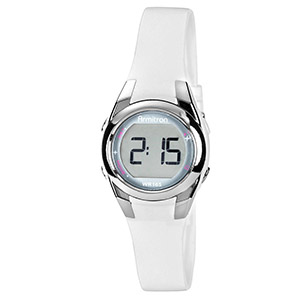 Armitron Sport Women's 45/7021WHT Watch is an excellent product with a modern design. It is the perfect match for workouts, sport, and casual wears. This Armitron watch is round with an in-silver tone. The white resin band which fitted with a buckle closure has a standard length. It is suitable for most women and adjustable to fit all wrist sizes. But it may still too small for some people.
Armitron Sport Women's 45/7021WHT has a digital display with a Japanese Quartz movement. The dial window is made of acrylic crystal. The case diameter is 27 millimeters and the number is big. So it is very easy to read time, even in the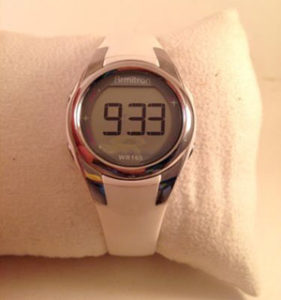 dark, cause it has backlight. It features a second time zone, a date function and the running seconds function. Additional it has stopwatch and alarm,they are very useful functions. But these functions are hard to set-up for people who use this style watch first time. So you may have to spend some time on it. The watch is also water resistant up to a depth of 50 meters (165 ft). It is generally suitable for short recreational swimming sessions and has no issues when showering with it on.
In one word, this functional, sporty and durable quartz digital watch is highly recommended for people who are looking for cheap but high end white watches.
Michael Kors MK5145 Women's  Watch Review
Pros:
1. Elegant and stylish.
2. The classic design is unique from any other.
3. It is one of the trendy watches.
4. Beautiful and functional.
Cons:
1. Not made for divers.
2. The band gets dirty easily.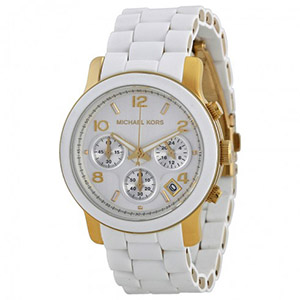 Michael Kors is one of the top designer icons in the world of functional fashion. It launched its first line of watches for women in 1981 after working with a French fashion house for six years. They have become one of the trend setters regarding manufacturing and supplying ready-to-wear men and women apparel and watches since then. Michael Kors MK5145 Womens Watch has a white dial, a 32 mm wide and 14 mm thick stainless steel case along with a push button clasp deployed on its link bracelet. A fold-over clasp is provided on the white polyurethane and stainless steel bracelet-style band to lock and hold the oversized gold-toned stainless steel case.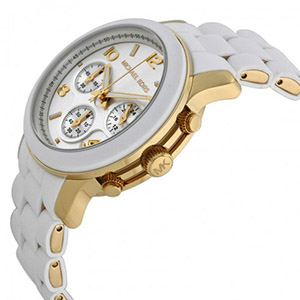 The crispy style of Michael Kors MK5145 Womens Watch is the best suitable for spring season. The dial and bezel are white, and gold-toned numeric hour markers and luminous hands contrast while keeping the look light. Three sub-dials provided on its chronograph indicate hours, minutes, and seconds. And at the position of fourth hours the date is displayed in a subtle window. Japanese quartz movement, mineral crystal and resistance to water up to 330 feet are the other features. All these features enable this great looking watch  strong and durable, even with few shocks. If you are looking for an affordable and fashionable white watch,this is the best one for you. Official site: michaelkors.com
Invicta Women's 0488 Angel Gold-Tone Watch Review
Pros:
1. Cute and comfortable
2. Affordable piece which evokes class and elegance.
3. This watch is designed with cubic roses studded with zirconia.
4. Analog display with Swiss quartz movement.
Cons:
1. Not suitable for scuba diving.
2. The band gets dirty easily with colors.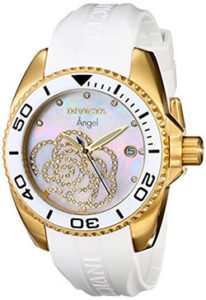 Invicta Womens 0488 Angel Gold-Tone Watch is provided with a polyurethane buckle type band to keep it safe during workouts. You can easily keep track on time with the help of luminous gold-toned hands and rotating bezel. The cubic zirconia hour markers, gold-toned hands, and matching rose design and gold-toned hands are the features that add charm and class to this watch. In order to bring additional lustre, the stainless steel case is brushed with 18k gold. A durable mineral crystal, Swiss quartz movement, a date window, water resistance up to 330 ft are the features that make this watch versatile.
Invicta Angel Gold-Tone White Watch for women is one of the most inspired creations of this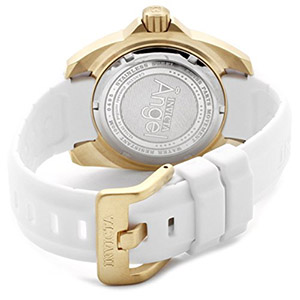 company. They sue their designing and technical expertise to create this most
valuable watch. According to a spokesman at the headquarter of Invicta Watch Group, they have the belief that beautifully designed watches can be supplied at the most reasonable price. They have proudly delivered these Swiss watches by using their experience and training of many years. They will continue deliver Swiss watches with true luxurious look and affordable price. Invicta Women's 0488 Angel Gold-Tone watch is just such a watch. Its price is under 100$ but have a unique and fashionable look. And don't forget it has a great Swiss quartz movement. (For a more in-depth look, you can check out our Invicta Watches Review)
Anne Klein Women's 109168WTWT Gold-Tone Watch Review
Pros:
1. Affordable price.
2. Very modern and clean looking.
3. The face is very easy to read.
4. The band can be adjusted according to needs.
Cons:
1. Not resistant to water.
2. The strap gets to look old after a while.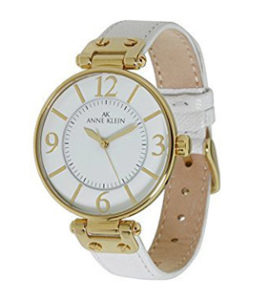 Anne Klein Womens 10-9168WTWT watch is a white watch for women with gold toned features. This oval shaped watch is an Analog watch. It includes leather strap, stainless steel case and Japanese quartz movement. This white watch from Anne Klein has modern looks and crispy lines. The features of its white oversized dial include Arabic numbers at the position of 3, 6, 9 and 12 hours along with stick like indexes on other hour positions which make its reading easier. It has three gold tone hands and a black printed minute track at the center of its dial to track the time easily.  The gold-tone metal plates with screw details accentuate the slim case and the soft, white,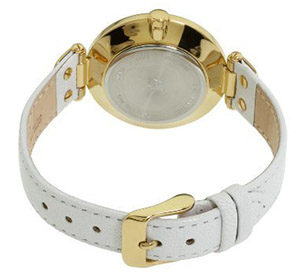 calfskin leather strap.
Anne Klein Women's 109168WTWT Gold-Tone Watch is a beautiful watch which has a very modern and clean looking. The white and gold combination is so great that attracts a lot of customers. It is very easy to read time with gold numerals and hands on the large white face. The soft white calfskin leather band is quite comfortable and can be adjust as you need. It is so elegant, yet so simple and the price is very cheap. So if you are looking for a stylish white watch with a large face, this is the best one to consider.
Conclusion
After going through the reviews of these five white watches for women, provided in this write-up, you can easily choose one for yourself or as a gift to your family and friends. They are all popular and good watch brands. Each of these watches have its own pros and cons as well as features which make them one of the best in their class. You should study them carefully before finalising your plans to buy one of them. We hope you can find the most suitable one.