Nothing compliments the stylish party attire than a sexy watch on your wrist. It is bound to get you compliments. If you're looking for the perfect purchase that is high on elegance, take a look at Invicta watches. Are Invicta watches good? Since there are lots of models for you to choose from. This Invicta watches review will help you make the best selection.  We're going to be looking at five of the bestselling Invicta watches and compare how they perform individually. We hope you can find your best watch after go through this Invicta watches review. You can be assured of one thing – quality is guaranteed when you buy a product of this company.
Invicta Watches Review:

Our top 6 Invicta watches and individual ratings are
| Pos. | Name | Price | Rating |
| --- | --- | --- | --- |
| 1. | Invicta Men's 8928OB Pro Diver Automatic Watch | $$ | 5/5 |
| 2. | Invicta Men's 9212 Speedway Chronograph Watch | $$ | 5/5 |
| 3. | Invicta Men's 6981 Pro Diver Chronograph Watch | $$ | 4.5/5 |
| 4. | Invicta Women's 5377 Angel Diamond-Accented Watch | $$$ | 5/5 |
| 5. | Invicta Women's 5168 Baby Lupah Watch | $$ | 4.5/5 |
| 6. | Invicta Women's 4718 Diamond Chronograph Watch | $$ | 4.5/5 |
Official site: invictawatch.com
Top 3 Invicta Mens Watch Reviews:
Invicta Men's 8928OB Pro Diver Automatic Watch Review
Pros:
1. Smart classy looking, great quality with fabulous price.
2. Easy to read the date and time.
3. Crafted with the Japanese automatic movement,never needs battery.
4. Water resistant up to 600 ft (200 m), making it ideal for professional watersports.
Cons:
1. The watch face may be a little small for some people.
2. Must be worn 8 hours or more every day or else time may slow down or stop briefly.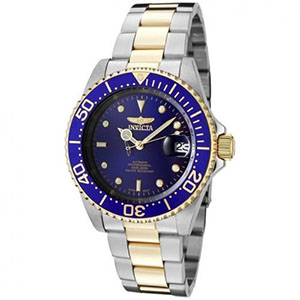 Classic in design and extremely high in performance, Invicta Men's 8928OB Pro Diver watch is made by the pioneers of watchmaking. It is a must have for those keen on land and water adventures. This model boasts a contemporary design with a hint of classic influence, which suits formal and casual situations. The corrugated unidirectional bezel along with luminous hands combines the best of durability and ease of use during nighttime. There is even magnified date window placed at 3 o'clock. The stainless steel bracelet alongside the 23k gold plated center links brings some heavy dose of class. It also ensures the ruggedness remains intact, and the watch is ready to be used in many diverse conditions.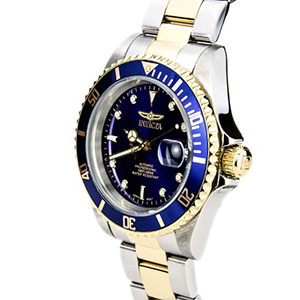 What sets apart this 8928OB Pro Diver watch from other competent products is that you can go even deeper. Whereas most watches in this price range only offer water resistance up to 330ft, this one doubles the stakes. Handcrafted by some of the most skilled artisans, this item consists of more than 130 parts that work in unison. And the best feature is that you don't need batteries to keep the watch running because it is completely automatic. It utilizes kinetic energy from the swinging of your arm, which makes it run throughout the day. These mechanical movements are available in mainly two types – Japanese made or Swiss made,and these two are the best. If you want an excellent watch for all needs and purposes, this would be the way to go.
Invicta Men's 9212 Speedway Chronograph Watch Review
Pros:
1. Durable and great looking, affordable price.
2. Simple design yet useful functionalities set this model apart from others.
3. Highly elegant and sophisticated design to cater to exquisite tastes.
4. Water resistant to 660 ft (200 M), making it suitable for casual scuba diving.
Cons:
1. May be a little hard to set all the applications for some people.
2. Few people have complained about watch face being too small.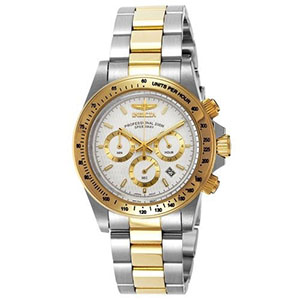 One of the most prized possessions of Invicta's Speedway collection is this watch. Paying meticulous attention to detail and showing outstanding craftsmanship. Invicta Men's 9212 Speedway watch is a must buy for many reasons. In the very first glimpse, your eyes will get bedazzled due to the 23k gold plating and the stainless steel bezel. The two tones of the bezel and comfortable bracelet strap make sure you do not compromise on ease of use. The luxurious and sophisticated design doesn't take away anything from its utility but enhances it multiple folds. This model comes with a protective mineral crystal that covers the dial window, ensuring you remain worry free. This watch demonstrates the technical and creative prowess of Invicta.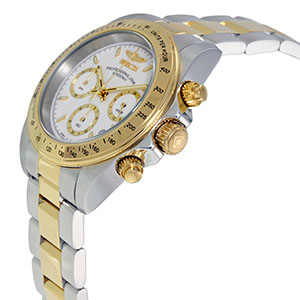 Some other useful utilities you may find in handy are a screw-down crown, chronograph function, and date window. Even though there isn't much on offering that's too "high tech", this item is bound to garner some serious attention. Be it for a steamy date night in New York or scuba diving in Maldives, this watch will keep you prepared! After all, when you choose Invicta, you want the finest quality craftsmanship that the watchmaking industry has to offer. However, it is advised that you exercise caution when diving underwater because this watch comes with limitations too. So, put on your adventure hat, roll on this watch, and get ready to embark on a new journey.
Invicta Men's 6981 Pro Diver Chronograph Watch Review
Pros:
1. Great price and impressive looking.
2. Combines high-tech style and Invicta's elegance into one product.
3. Powered by Swiss quartz movement for optimum performance.
4. Provides resistance to water to 330 ft (100 M), making it suitable for swimming and snorkeling.
Cons:
1. May be too big and heavy for some people.
2. The band quality could have been better.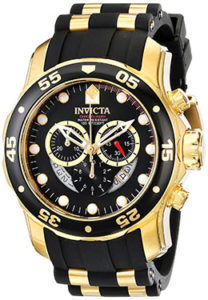 Ever wondered how the love child of cutting-edge technology and the old world charm would look like? Well, this item here is your answer. Invicta Men's 6981 Pro Diver  watch is one of a kind as it effortlessly combines high-tech functionality with superb classical elegance. Being a part of the company's Pro Diver collection, this watch doesn't feel to mesmerize in the aspect of performance. It offers water resistant capability up to 100 M, which lends you the opportunity to go swimming or snorkeling. At this price range, very few brands can live up to this one. This is a product every urban man needs to wrap around the wrist to stay prepared for every situation.
The sleek black and gold color combo is accentuated by the presence of a unidirectional bezel and a trio of subdials. One looks at this watch, and you'll be captivated by the workmanship that went into making this model. It brings the highly appraised Swiss quartz movement. And the crystal dial window protects the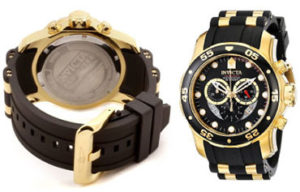 analog display from scratches or any other damage. Besides, the inner dial lavishly embellished with three chronograph sub dials, which provide useful functions. There is no reason for you to worry about manufacturing defects because the company takes utmost care in their production. But, it would be best if you didn't go scuba diving wearing this watch. Cause it is not built for such activities. For more details, you can check out the official Amazon page and then decide if it's worth buying.
Top 3 Invicta Womens Watch Reviews:
Invicta Women's 5377 Angel Diamond-Accented Watch Review
Pros:
1. Stylish visual aesthetic that is hard to match at this price range.
2. Performance exceptionally well while swimming or snorkeling.
3. The Diamond accented bezel manages to stand apart from the crowd.
4. Has reliability of Swiss-quartz movement.
5. Distinctive appeal created by black and silver color combo is highly appealing.
Cons:
1. May be too big and heavy for some people's wrists.
2. Not suitable for deep sea diving.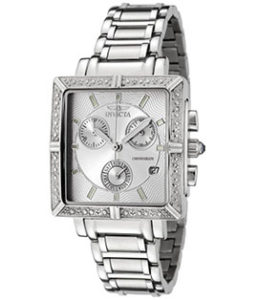 Elegant, charming, and ladylike, the Invicta Women's 5377 Angel Diamond Accented watch is a product that speaks volumes. Among many spectacular features and breathtaking design, the diamond accented bezel comes out on top as a showstopper. To complement the sharp office attire or the black gown you want to wear to a party, this product is all you need. It will mesmerize with the square shape and jewel-capped crown consisting of the stylish textured outer dial. The 33 mm, stainless steel casing, combined with mineral window ensures optimum durability for you to use in various situations. Powered by the best in quality Swiss quartz movement, this analog watch would be a worthy addition to your wardrobe.
Nothing will look good on your wrists as you head out for a date than this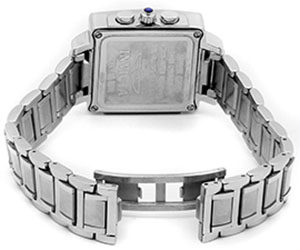 watch. The modern woman needs versatility, and that is precisely what you get from this iconic model. It provides water resistance to 100 meter, keeping you ready for those surprise swimming and snorkeling sessions. With visual aesthetic far superior, this watch boasts a sharp contrast between the square silver-tone dial and crisp white hourly markers. There is also a date window placed at 4 o'clock so that you never need to reach your phone again. The inner dial lavishly embellished with three chronograph sub dials along with sweeping hands and black markers complete the look. Try it out once and it's unlikely you'll ever be fascinated with anything else.
Invicta Women's 5168 Baby Lupah Watch Review
Pros:
1. Affordable price.
2. Simple yet elegant design.
3. 5 different color variants of bands to choose from.
4. Provides water-resistant to 100 meter, making it ideal for going swimming.
Cons:
1. Too heavy and big for people with small wrists.
2. The band quality could have been better.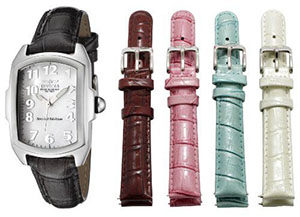 Looking for something elegant and functional that doesn't scream for attention? Well, the Invicta Women's 5168 Baby Lupah watch may be something worth your money. In contrast to many expensive and highly-embellished models made by the company, this one features a relatively simplistic design. But, do not be discouraged because this model pulls off everything it sets out to do. This watch is rectangular in shape and comes featuring an alluring mother-of-pearl dial that consists silver tone hands and Arabic markers. It features the iconic Swiss quartz movement.The 29 mm steel case shows off a polished look. And the flame fusion dial window helps accentuate the visuals. Like many other watch categories, the Lupah collection also offers water resistance to 100 meter. Excited enough already? Well, there's more.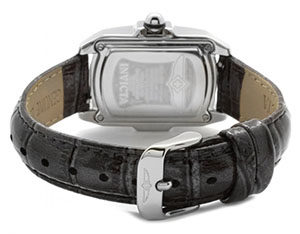 What sets apart this collection from the rest is that you get leather bands in different colors. In addition to the dark slate gray band, you'll also get dark brown, seafoam, pink, and white straps for customization. Tired of wearing a neutral color to office? No problem! Just switch the leather band with pink and be ready to show off your Girl Power. Every day would be a new surprise when you buy this collection.  Mixing and matching wrist wear has never been so fun than it is with this exciting watch.
Invicta Women's 4718 Diamond Chronograph Watch Review
Pros:
1. Gorgeous watch, classy and sophisticated.
2. Diamond studded bezel breathes new life in the visual appeal.
3. Protective Flame-Fusion crystal dial window.
4. Water resistant to 330 ft: suitable for snorkeling and swimming.
Cons:
1. Diamonds are a little small.
2. The face may be too small for some people.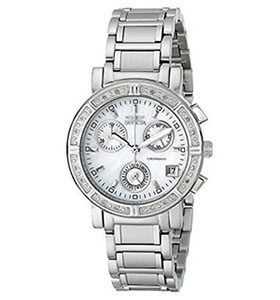 If you're looking for a watch that speaks nothing but aristocracy, then Invicta Women's 4718 collection is for you. Among the collection, Invicta 4718 Diamond Chronograph watch belongs to a limited edition category that effortlessly combines beauty and utility. It features white diamond set on a polished stainless steel bezel. There is perhaps nothing more elegant as this model. The icing on the cake is the Mother of Pearl dial that people have come to love about the company. Worried about durability? Put your worries aside because this watch is protected by the Flame Fusion crystal window that keeps scratches away. The ever so famous Swiss quartz movement ensures nothing comes between you and your activities by providing top notch performance.
This limited edition chronograph timepiece is high on style quotient and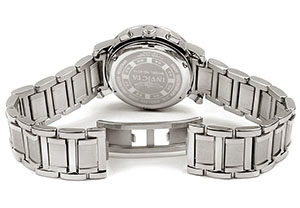 embellished with 16 handset sparkling diamonds. We all know diamonds are woman's best friend, but this diamond studded watch will forever be your companion. Speaking of functions, you'll be getting a date window located at 4 o'clock, deployment clasp, and three sub dials. Are you at a pool party and would like to go swimming? There's no reason to fret because this model comes with water resistant capability to 330 ft. Whether it is swimming or snorkeling, you can count on this clock to keep on ticking.
Conclusion
Finding the perfect quality watch is more than just about picking a popular watch brand and browsing through all the available models. There are a lot of considerations people take into account to buy a product that would last. In the case of watches, you can count on Invicta to get nothing but premium quality. This popular watch brand has carved a reputation for itself for manufacturing some of the finest handcrafted models you will find. This Invicta watches review article should be a guide for you. We understand the need to buy a product that stylish and durable, and that is precisely what you'll get.
===>> Also Read: Best 6 Shinola Watch Review