Are citizen watches good? Are they worth your money? Don't worry, we have brought you an article about citizen watches review below. With the principal focus on making you have a concrete knowledge about them.
When it comes to watches, very few brands can match up to the fine craftsmanship and expertise of Citizen. This brand has carved a name by making watches that are not only for sophisticated but also fit for everyday use. Because of the appealing aesthetics and low maintenance costs, Citizen watches have earned popularity throughout the world. If you're looking forward to buying a product of this company but cannot make up your mind what might be the best. Or want to know more opinions about "Are citizen watches good? ". Just read this citizen watches review of five bestselling Citizen watches.
Citizen Watches Review:

Our top 5 Citizen watches and individual ratings are
| Pos. | Name | Price | Rating |
| --- | --- | --- | --- |
| 1. | Citizen Men's BM8180-03E Eco-Drive Watch | $$ | 5/5 |
| 2. | Citizen Men's BL5250-02L Titanium Eco-Drive Watch | $$$ | 4.5/5 |
| 3. | Citizen Eco-Drive Men's BM7170-53L Titanium Watch | $$$ | 4.5/5 |
| 4. | Citizen Eco-Drive Women's EW1544-53A Silhouette Watch | $$$ | 5/5 |
| 5. | Citizen Women's EW1270-06A Eco-Drive Watch | $$ | 4.5/5 |
Official site: citizenwatch.com
Top 3 Citizen Mens Watch Reviews:
Citizen Men's BM8180-03E Eco-Drive Watch Review
Pros:
1. Exquisite design, good looking and masculine watch face.
2. Japanese quartz movement that recharges on both indoor and natural light.
3. The band could easily be changed for a more formal look.
4. Water resistant up to 330 feet, making this watch is suitable for swimming and snorkeling.
Cons:
1. The band may loosen up over time, the quality could have been better.
2. Water resistance has limitations, making this watch not suitable for diving.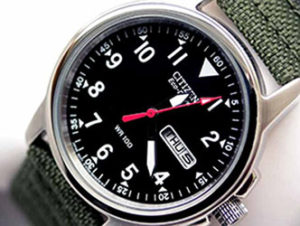 Citizen Men's BM8180-03E Eco-Drive watch is an excellent example of exemplary craftsmanship that Citizen has consistently delivered since its foundation in 1930. It brings the highly appraised Eco-Drive technology that eliminates the need to replace batteries. This makes them ideal to be worn in places where batteries are not obtainable. It features a stylish stainless steel rim around a black dial and a sturdy stitched canvas band. The Mineral crystal dial window is another redeeming quality of this watch. And it lends a dash of sophistication without compromising on the durability factor that is ever so essential.
Some other notable features include buckle closure for ease of use and optimum comfort. And analog display still continues to be preferred over their digital counterparts. The date and day of the week are shown in a small window at 3 o'clock position. It is also water resistant to 330 feet (100 M). So it is suitable for snorkeling, as well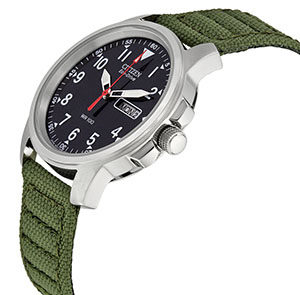 as swimming, but not diving. Citizen has once again successfully managed to combine the best of beauty and technology. And bring you a product that is truly worthy of the brand name. Pushing the boundaries of modern technology and artisans approach, the company has consistently delivered products which are no less than revolutionary in their own way.
Citizen BM8180-03E watch is a fantastic watch that has made them the people's choice for all these years. It doesn't matter if you plan on wearing this watch to a party or hike up the Grand Canyon. You can count on getting top notch everywhere, and in all situations.
Citizen Men's BL5250-02L Eco-Drive Watch Review
Pros:
1. Really classy looking, light weight, nice features.
2. Perfect for formal as well as casual occasions.
3. The revolutionary Eco-Drive technology has completely got rid of the need to use batteries.
4. Perpetual calendar functionality. So, no more changing the date on those months that do not have 31 days.
Cons:
1. It is kind of a pain to get setup.
2. If you have a large wrist the band may be too small.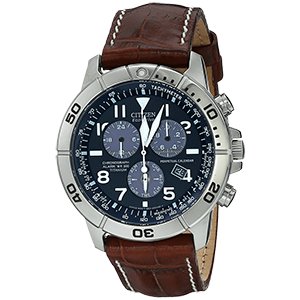 The first noticeable aspect of Citizen Men's BL5250-02L Eco-Drive watch is the detailing. It has plenty to offer as a gadget. One who likes their watches to have a lot of features will take an interest in this model. The watch comes with a silver and black dial enclosed within a titanium casing. The croco embossed leather band breaks the "high-tech" appeal quite delightfully. And it introduces a subtle sense of classic charm that this watch would have otherwise lacked. The white stitching in the leather band also manages to stand out by itself wonderfully well.
Some of the most important features are the alarm, chronograph, unidirectional bezel, tachymeter in a chapter ring, and buckle closure.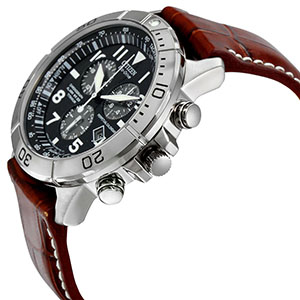 These all features make it a unique watch by Citizen. It also offers 270-day power reserve, a perpetual calendar that automatically adjusts for Odd. Power saver function, one-way rotating elapsed-time bezel, and many other features.
Even if you aren't too much into additional features, the basics of this watch alone will keep you engaged for quite a while. After all, the Citizen BL5250-02L watch is quite the looker! The date is shown at 3 o'clock position in a square window. And this watch is water-resistant to 200 m (660 ft). It means you can push your luck a little bit more and indulge in underwater sports. You are sure to get more than just money's worth if you decide to purchase this watch.
Citizen Eco-Drive Men's BM7170-53L Watch Review
Pros:
1. Lightweight, sharp looking and simple classy.
2. Perfect for casual or elegant settings.
3. Eco-Drive technology makes this watch recharge by light alone.
4. Water resistant to 100 m (330 ft).
Cons:
1. Calendar date may be a bit small and hard to see it.
2. Some users may feel this watch to be a bit too bulky.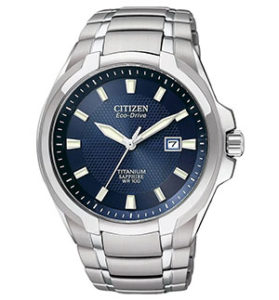 Citizen Eco-Drive Men's BM7170-53L Titanium watch is a beautiful specimen worthy of more than just admiration. Because it combines the best of beauty meets utility combo. Like other similarly priced Citizen watches, this one also has a sturdy build and outstanding visual aesthetics that is sure to capture everyone's attention. The first thing you'd notice in this watch is its 43 mm titanium case around a blue dial with intricate honeycomb pattern. The Japanese quartz movement lends 180-day power reserve. It makes this watch ideal to be worn in the most extreme places.
The dial consists of  luminous markers and a handy date display located at 3 o'clock. So you can see the time perfectly even in extremely low light situations. The titanium link bracelet comes with push-button fold-over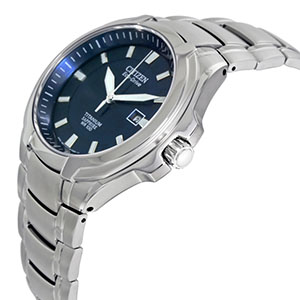 clasp closure makes putting on this watch highly convenient. Even the water resistant property does not make this watch suitable for full-fledged water sports like scuba diving or deep sea diving. But you can still go for a light swim while having it wrapped comfortably around your wrist.
Built to last many years and crafted to perfection by some of the finest artisans in the watchmaking industry. This watch is bound to get you compliments from people around you. Just try it out for yourself to see the magic.
Top 2 Citizen Womens Watch Reviews:
Citizen Eco-Drive Women's EW1544-53A Watch Review
Pros:
1. Eco-Drive technology is fueled by light and never needs a battery.
2. Stylish and aesthetically striking design.
3. It can compliment most outfits.
4. Water resistant to 100 m (330 ft).
Cons:
1. Due to small size, the date may be difficult to read.
2. Gold hands may be hard to see when you are outside.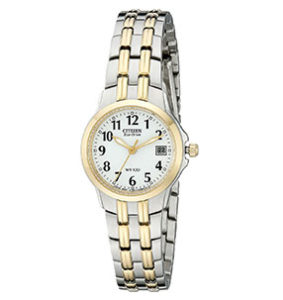 People are always fed up with replacing batteries on their watch, especially for women. If you wish you could have a stylish and elegant timer that could go for decades without battery replacement. Then Citizen Eco-Drive Women's EW1544-53A watch may be just what you are looking for. The watch is powered by Eco-Drive technology. This is a system that recharges with brief exposure to UV light including sunlight and other sources of UV rays. So you never need replace battery.
Citizen EW1544-53A watch is  a perfect combination of beauty and functionality. It comes in gold and silver tones with a white dial and black hour markers. This makes it easy to read the time whatever the lighting conditions. It has a Japanese quartz movement on the analog display. This gives the watch a classic feel and  complements the reliability of the stainless steel case and the mineral dial window. The traditional and clean look display make you read time easily. The watch is also solidly built to be water resistant up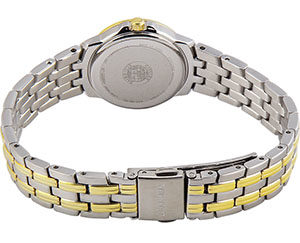 to 330 feet. So you would not need to take it off when you go swimming, or when you get caught in the rain. The dual-tone stainless steel bracelet is fashionably designed and features a simple but dependable push-button fold-over clasp.
Whether you are buying it for yourself or as a gift to someone special. Citizen EW1544-53A watch is one of the best time piece for you.
Citizen Women's EW1270-06A Eco-Drive Watch Review
Pros:
1. Light-powered Eco-Drive means you never have to replace the battery.
2. Classy and stylish face and strap design complements any fashion attire.
3. High contrast white background and black numbers face means better visibility.
4. Water resistant to 30 m (99 ft).
Cons:
1. The date is a little difficult to read.
2. The watch may be too small for some people.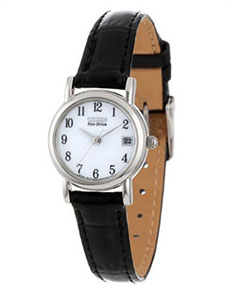 The Citizen Women's EW1270-06A Eco-Drive watch is another great basic watch. Which is designed and built by a company that has a century of experience in watch craftsmanship. This elegant and durable watch features a  tough stainless steel case and a lovely bone white dial with Arabic numerals. It has a Japanese quartz movement. And there is a date window at three o'clock. The black leather band with buckle closure is not only a comfortable fit for any arm, but also greatly complements any attire. The rounded face of the watch and silver hands make it easy to read the time. It is also water resistant. But in general, it only withstands splashes or brief immersion in water.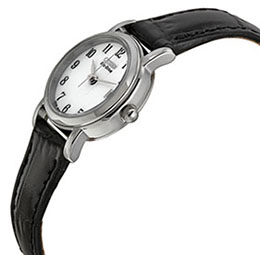 This watch is also powered by Eco-Drive technology. It is an ideal watch that one can wear it all the time without worrying about replacing the battery. And it is a perfect timepiece for you if you are a classy and fashion-savvy lady. It is a watch that could be worn in a more formal setting yet remain practical enough for daily use. If you are looking for such a watch, then Citizen EW1270-06A watch can be one of your choices.
Conclusion
Citizen is a 90 year old company that has excelled in fusing technology and beauty. It has promoted a multi-cultural mindset that fosters excellence and creativity. It is always ready to produce high end and fashionable watches for customers form all over the world. Utilizing electrical power converted from virtually any light source, this extraordinary innovation changed forever the way watches could be powered. All the five watches are powered by Eco-Drive technology in these citizen watches review. It is so popular and widely accepted. After go through these citizen watch reviews. We hope you have found the watch that suits your tastes.
===>> Also Read: Top 5 Tissot Watches Collection and Reviews
Best 5 Swiss Legend Watches Review